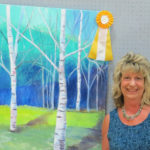 LAA Featured Exhibiting Artist 2019
Kathy has been passionate about painting for over thirty years. She is a watercolor and acrylic artist who also enjoys photography.
Kathy has been a loyal Leominster Art Association member for over 30 years, and has participated in many LAA shows, winning awards. Her work has also been juried into the Fitchburg Art Museum Regional shows.
Her paintings have been in galleries and shows throughout New England, as well as in private collections in the US and Japan. She has also had the honor of displaying art at the statehouse in Boston.
Kathy has studied with some great teachers while taking art workshops and attended classes at the Fitchburg and Worcester Art Museum.
She is always eagerly learning new techniques and using materials to express her visions. Her enthusiasm has led her to start her own painting circle of friends that meet weekly. Plein air painting is enjoyed by all in her group.